Pro Cycling Manager 2019 Steam Key GLOBAL
Pro Cycling Manager 2019 is a sports simulation game developed by Cyanide Studio and published by Bigben Interactive in June 2019. It focuses on managing either the entire professional cycling team or leading a single rising star cyclist through the entire cycling season.
Gameplay
Pro Cycling Manager lets you take control over cyclists as they compete with other teams in order to become the champions. The game is split into two parts – management and actual racing. Management screens allow you to set up training, sign contracts, or take care of injuries, among multiple other things. The races, on the other hand, are simulations with a real-time 3D preview available, where cyclists are controlled by artificial intelligence.
As the game progresses, your cyclist will earn skill points you can spend to improve his performance. Skills are split into four groups – performance, personality, discovery, and race. Some of the skills are passive bonuses, while others enable certain actions you can perform during the race, like gracefully moving up the peloton.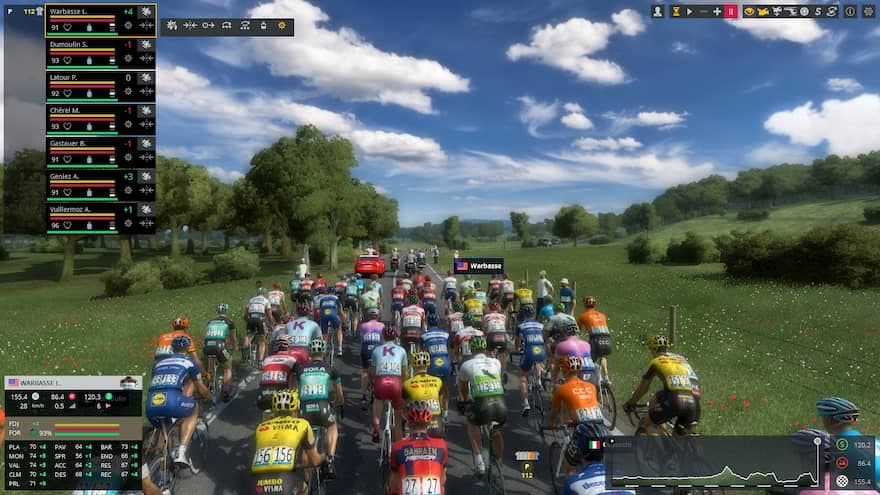 Game Modes
The game can be played either in single-player or together with other players in multiplayer. In single-player it's possible to play the Career mode, where you will be responsible for controlling a cycling team over several seasons, including taking care of contracts and sponsors. There is also a Pro Cyclist mode, previously known as a Be a Pro, where you will be able to create your own cyclist and develop his own career, including improving his skills and taking part in various competitions. On top of that, there is also a One-off Race which allows taking part in a single custom race, as well as a Track mode, where it's possible to compete in one of seven different disciplines, including Sprint, Keirin, and Elimination. Multiplayer mode, on the other hand, allows you to compete or cooperate online with up to 16 other players simultaneously.