Grim Dawn - Ashes of Malmouth Expansion Steam Gift GLOBAL
Grim Dawn is an action RPG created in 2013 by people who made Titan Quest (one of the best Hack'n Slash in history). As a spiritual successor of the Titan Quest, the game quickly gained fans. The Ashes of Malmouth is an expansion pack from 2017. The story in the DLC takes place right after events from the original game. You thought that you won the conflict and humans are finally going to be able to start the new life. However, the human resistance cannot rest yet. In the lost and forgotten city of Malmouth, the Shaper of Flesh created living weapons which are going to destroy humanity once and for all. 
You need to stop him before it is too late. Others are counting on you. In practice, the Grim Dawn Ashes of Malmouth means two new chapters, filled with interesting challenges. The level cap was increased to 100, while the devotion cap was increased to 55. To fight in this new conflict, two unique masteries were introduced which are the Inquisitor and the Necromancer. Four additional factions were also added. Keep that in mind because they are going to play a crucial part in the story. The DLC has much more to offer but it is your task to find what exactly the expansion pack hides.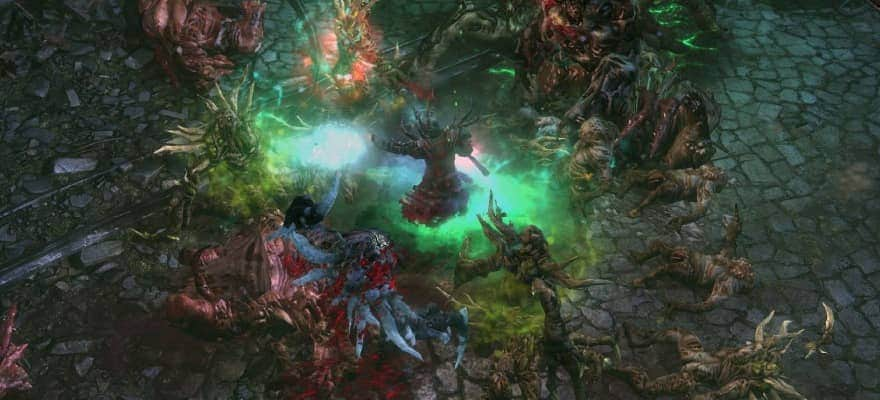 Gameplay
The introduction of the expansion pack not only allowed developers to increase the difficulty level (for example with new bosses) but also introduced a new gameplay mechanics and styles, which you could not utilize in the vanilla version of the game. The biggest expansion is the ability to choose a second class when you gain level 10. The best part of it is the fact, that you can combine any available mastery in the game. You can, for example, mix a shaman with a necromancer or a soldier with an arcanist. Thanks to this you are going to have access to skill trees of both classes. This provides you with endless possibilities of making a character, which is going to fit your style.